Although no medication has been specifically formulated or approved for use with the AeroKat and AeroDawg, current users have suggested the use of the following metered dose inhaler medications.
Brand Name
(Generic Name)

Classification

Supplied Formulation

Pack Sizes

Suggested starting dose

Clenill
(Beclometasone diproprionate)

Corticosteroid

50mcg
100mcg
200mcg

200mcg q12h

Flixotide
GlaxoSmithKline
(Fluticasone proprionate)

Corticosteroid

50mcg
125mcg
250mcg

120 dose MDI

250mcg q12h

Salamol/Ventolin
APS/GSK
(Salbutamol)

Bronchodilator

100mcg

200 dose MDI

100mcg q6-12h

(or as required)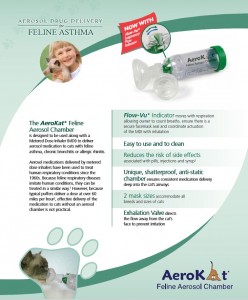 To download a medication dosing leaflet for cats click here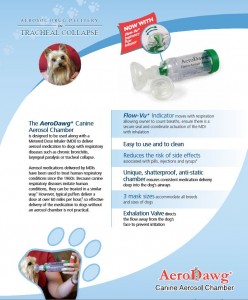 To download a medication dosing leaflet for dogs click here
Please note that most of these drugs will be off veterinary licence. BreathEazy Ltd neither endorses nor accepts liability for the use of these medications. The choice of prescribed medication lies with the consulting clinician.